Personalize contact center interactions
Connect your contact center to engagement data to drive personalization and CLTV.
Give your customer service representatives the engagement data they need to deliver 1:1 personalized customer support that drives purchases, reduces churn, and increases customer satisfaction.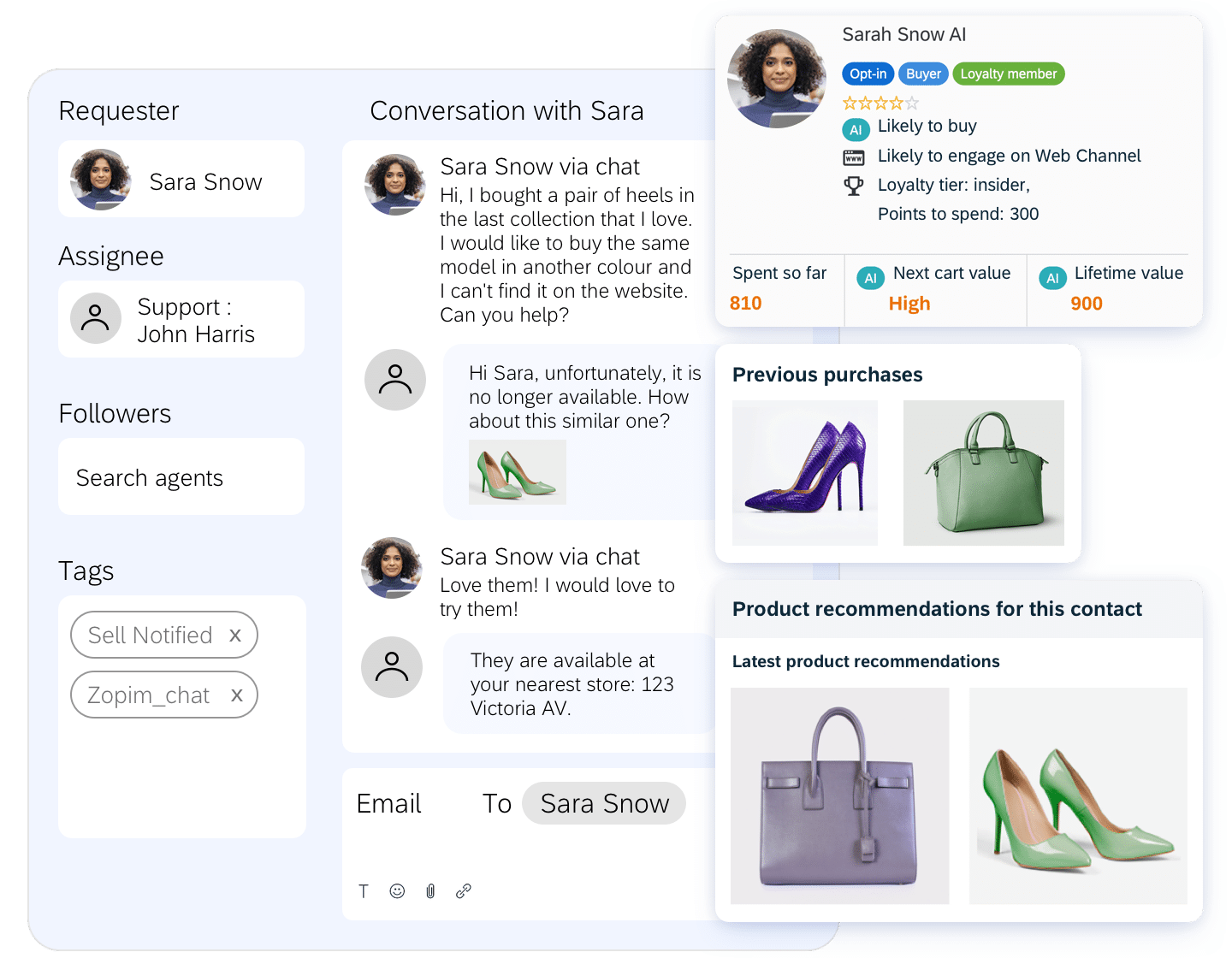 Connect customer service to first-party data to deliver 1:1 personalized engagements and higher CSAT

Contact centers remain a source of stress for the modern customer, often providing disconnected experiences worlds apart from the personalized engagements customers have grown to expect. Emarsys consolidates your customer, sales, and product data into actionable insights, empowering support teams to deliver a 1:1 personalized service that reduces churn and maximizes customer lifetime value.
Easily integrate your contact center with your current marketing mix
Deliver hyper-relevant customer support
View spending info including buyer status and predicted turnover
Reduce browse abandonment and drive sales revenue
Connect customer service to first-party data
Give your customer service reps the information they need to provide seamless service. Automatically process, consolidate, and validate your product, sales, and customer data into a single source of actionable insights that reps can use within Zendesk to deliver a smarter, more personalized, positive customer experience.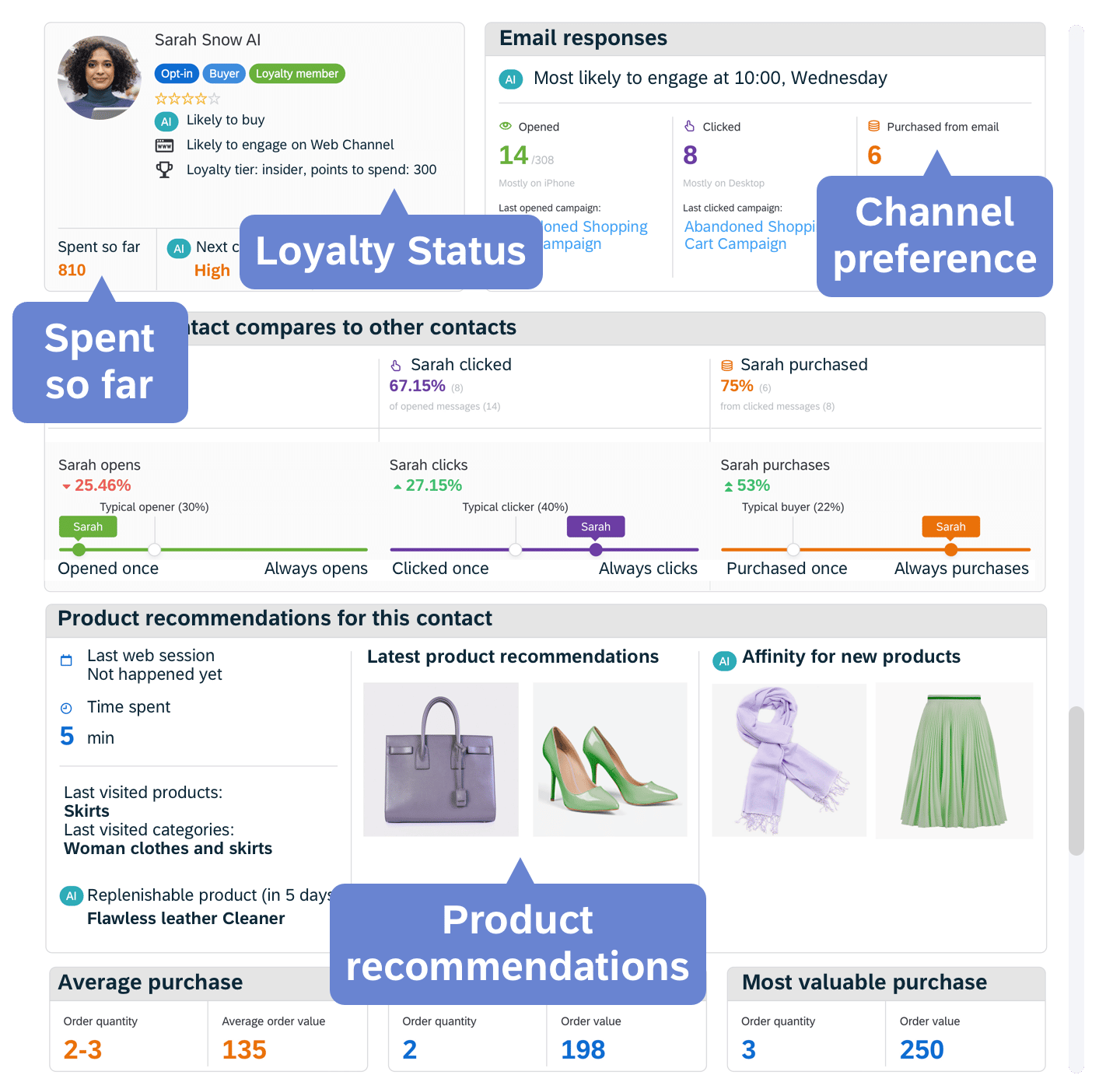 Turn support tickets into sales with dynamic segmentation
Data and insights from all of your customer service interactions in Zendesk are automatically passed into the Emarsys platform. From dissatisfied customers to loyal, repeat customers, Emarsys automatically segments your customers, ready for your marketing, sales, and product teams to personalize engagements.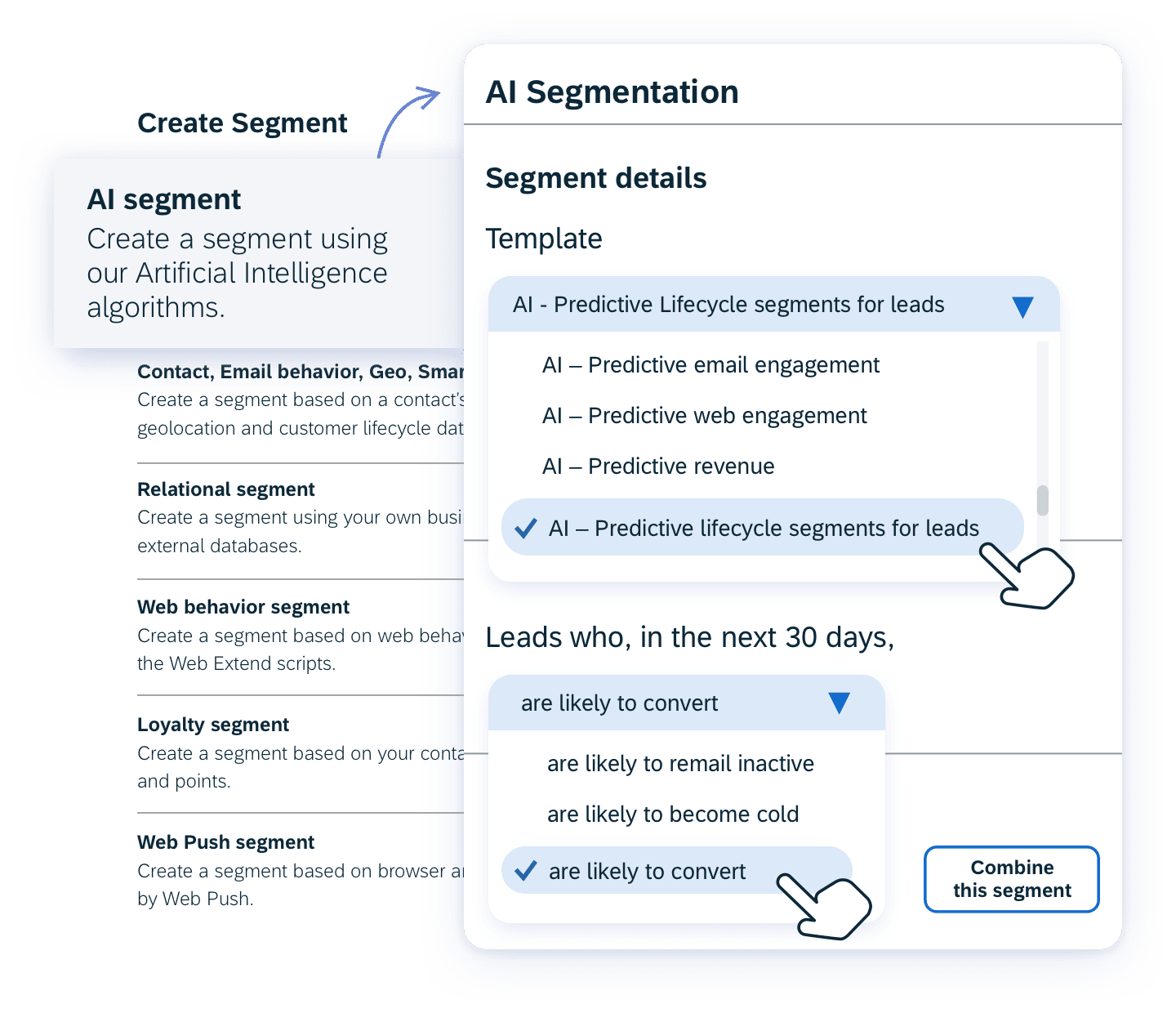 Continue the conversation cross-channel with AI marketing automations
Engage your customers beyond customer service contact with easy-to-implement AI-powered marketing automations. Automatically enroll customers into automated journeys based on current and predicted behavior that improve CSAT, reduce churn, drive repeat purchases, and increase loyalty.
See Emarsys for yourself in
just 3 minutes
Discover why thousands of marketers trust Emarsys's contact center channel to drive customer engagement and accelerate business outcomes.
Grow loyalty and improve CX with 1:1 personalized customer service
View previous purchases, recently viewed products, and email engagements at the touch of a button to assist customers with their inquiry and provide a 1:1 personalized support service. Drive revenue during support interactions with personalized cross-sells and upsells, powered by dynamic product recommendations.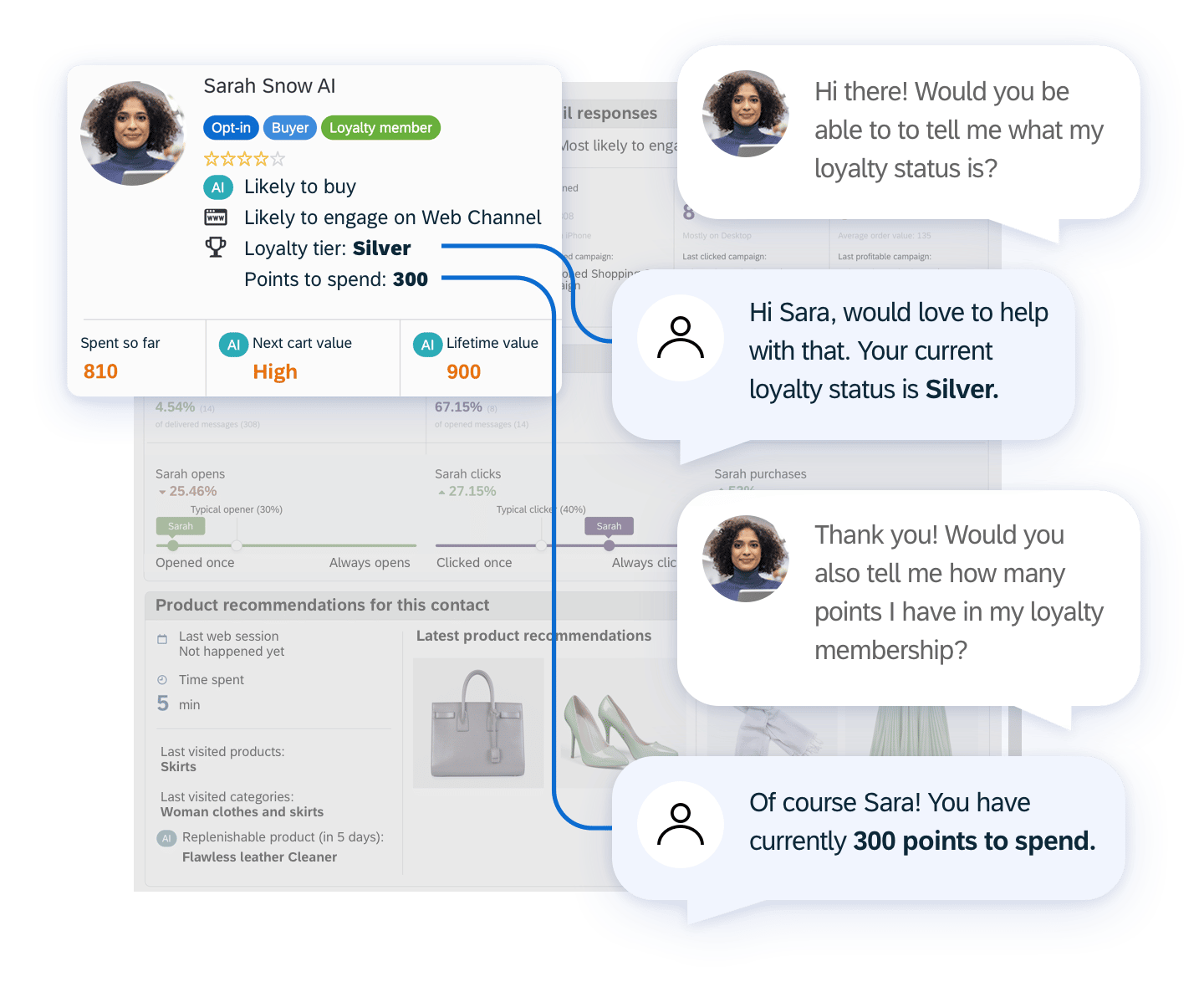 Track the revenue impact of your customer service interactions
Establish customer service as a profit center with integrated insights and analytics. Track the revenue impact of customer service interactions and automations triggered from support tickets within the Emarsys Strategic Dashboard. Break down performance to individual programs and track revenue, revenue impact percentage, purchases, and average order value.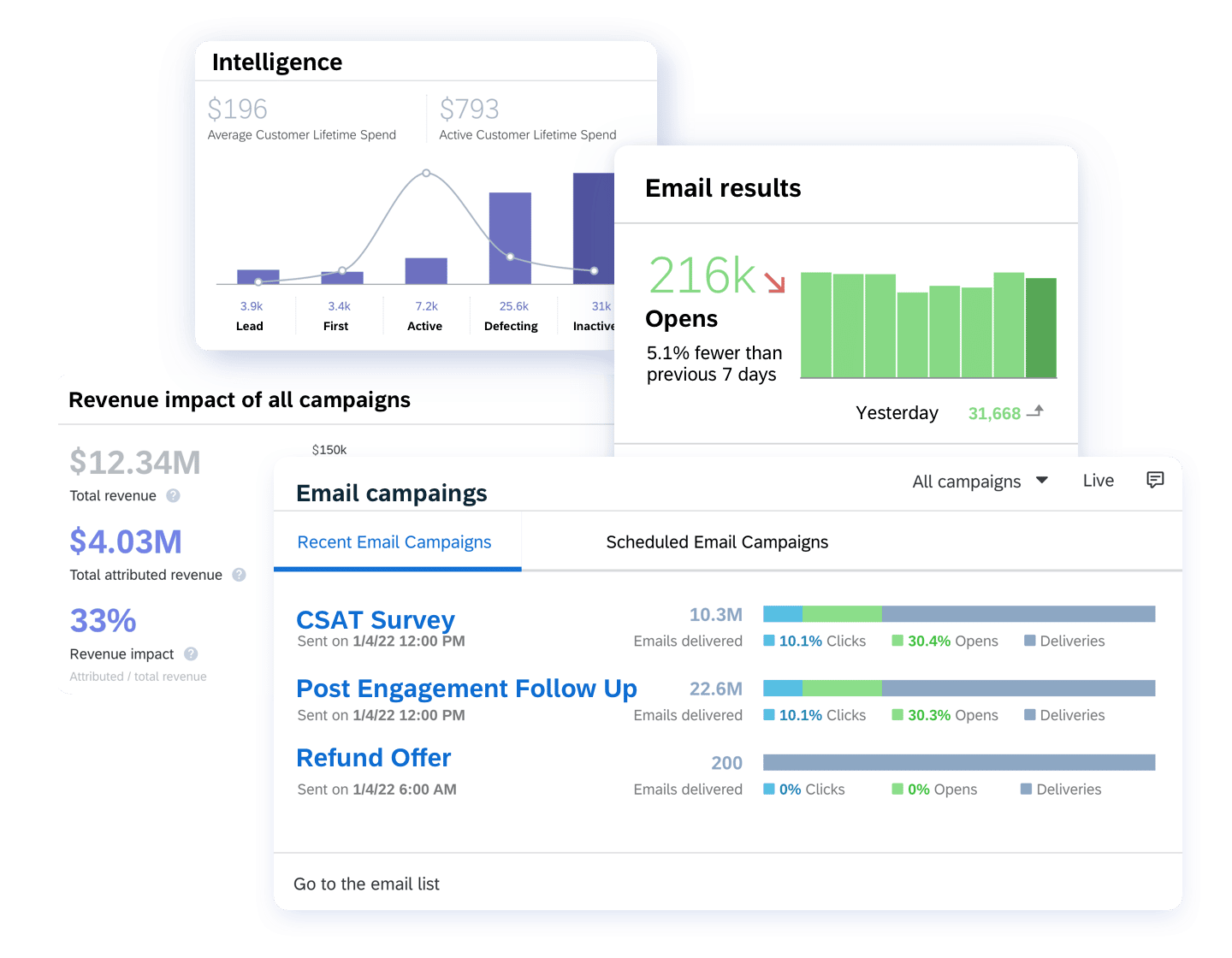 Hear it from our customers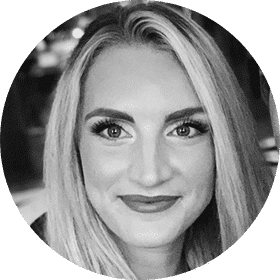 Hannah Wilkinson
Global Loyalty & Retention Manager, Charlotte Tilbury
"We connected Zendesk with Emarsys in the hope that it would give our Customer Care team better visibility and insight of the customers reaching out. It did just that. Our Customer Care agents are now able to quickly pull up a customer's profile without the need to reach out to the CRM team. This allows them to see on a granular level their last communication, last product/s bought, and even products to upsell based on Emarsys Predict. This visibility has improved our Care Teams' responses, and is another action towards being truly omnichannel!"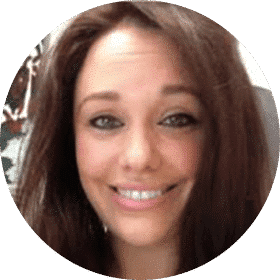 Sara-Jayne Grabiec
Global Customer Experience Manager, AllSaints
"It was life-changing for our team. Now, we've expanded significantly and handled a multitude of requests from global customers."
Liam Loyd
CRM Manager, AO
Read full case study
"Relevancy is a big key [to creating successful customer journeys], and using the tools that we have at our disposal within Emarsys. There is a wealth of [segmentation and automation]. You're able to test and learn very quickly with Emarsys."
Learn more about how contact center fits into our wider customer engagement platform
DISCOVER MORE
Deliver the


predictable, profitable

outcomes that your business demands with our omnichannel customer engagement platform.
Request a Demo